I had almost this whole post typed up already and logged back in and it was nowhere to be found. Idk if Blogger lost it, or maybe somehow it was a connection issue or other problem with this computer, or what, but GRRR. Just sayin. Anyway, here it goes again.
I also want to apologize for slacking on posting this week. Its been a hell of a week, worked 3 8-12 hour night shifts (and tonight makes 4), plus my sister had some major health problems and we were all very worried about her for a while (she is doing much better now though). So like I said, hell of a week.
*Disclaimer: All images in this post are of artworks done by Ann Vierick at Canvasart1
. I claim no credit or responsibility for any of the art or photography in this post.
This week's Feature Friday is on an awesome artist named Ann Vierick, who runs her own Etsy shop,
Canvasart1
. She is offering you wonderful readers a discount code, as well as a short interview. She has been so nice to work with, and I hope you all give her a big welcome (as well as consider buying some of her work!) so that she will come back again in the future!
So. Onto the interview portion of your feature presentation. :D
What is your favorite piece and why?
AV ~ [It's] a seascape I did a few years back titled Illumination. I love the feel of the piece because it seems to be lit from within.
[Is that a gorgeous piece or what!? I would love to hang that in my house! It truly does seem to be lit from within, as Ann said. Fantastic use of color and paint to bring it alive.]
Where do you get your inspiration?
AV ~
My main inspiration source is from nature
How long have you been painting? How did you get started?
AV ~
As long as I can remember. All through my childhood, I enjoyed art class more than any other. Was always involved in art shows, creating murals for school plays etc. I went to school for Graphic Design thinking that I would have a better chance of employment that way, but painting is what I really love to do.
How/why did you decide to start selling on Etsy?
AV ~
I am a muralist and decorative painter also. I heard about Etsy through another decorative artist on a online faux forum and decided to give it a try.

On to some of my favorite pieces!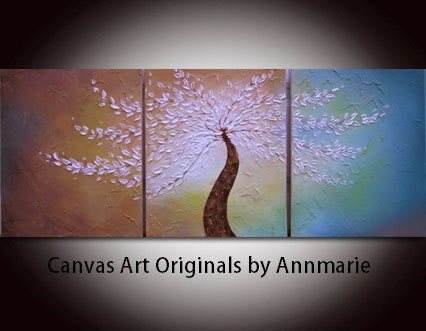 I
so
love a good tree painting, especially an impasto one! I also love triptychs and diptychs, and as well as works with more than 2 or 3 pieces. The use of color here is wonderful to me too.
I think this would be so gorgeous on a kitchen wall! It reminds of coffee beans. Imagine sitting there drinking your morning coffee and getting to drink in this work of art as well. Idk about you, but that would sure make my morning better!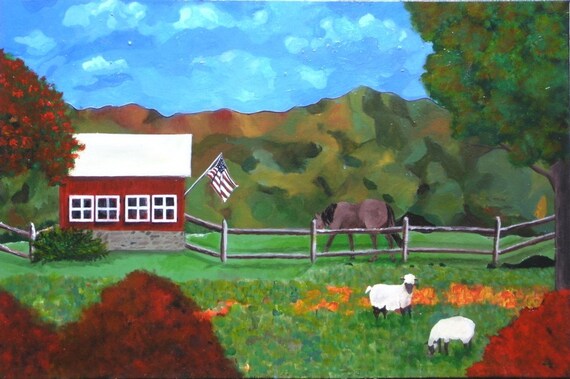 For those of you who may have more classic tastes than me, she has pieces that might appeal to you as well. Like this Americana piece. Beautiful pasture, beautiful mountains in the background, beautiful blue sky above.
If you read last week's Feature Friday, then you know I love birds sitting in a tree or on a wire. What sets this one apart, at least for me, is that it seems to be a family of birds. It makes me think of a mom and dad (or mom and mom, as it would be in my case) sitting there with their 2 young ones between them. I love the serenity the shades of blue background and white flowers give the piece. One small happy family!
These next 2 are similar to each other, but I absolutely could not pick one for this post. So here are both!


Thanks to her excellent use of shading, it truly looks like a metal piece of wall art rather than a painted one, dontcha think? As does this one:

I love love LOVE how she did the swirls in the middle squares. It feels like I am looking through a window at golden wind! (I know, I do tend to have quite the imagination. But that's whats so great about art! While I see golden wind, each one of you can interpret it in your own ways!)

So, didja see anything you like? Perhaps something you'd even consider buying? If so, act fast! Ann is offering a 10% discount for you wonderful readers! Just enter the code HOMEDECOR when you check out!