I
have this recurring daydream that I'll be showing my mother-in-law/apt office manager a sketch I've done of how I'd redecorate the kitchen on a tight budget and doing lots of the work ourselves, and that my landlord will see it and like it so much that she will agree to pay for us to re-do our kitchen. Then she will love what we've done with the kitchen so much that she will let us do the downstairs bathroom. And have us draw up plans to show the maintenance guys what we did so they can redo the other apartments. I even dream that she'd offer me free or reduced rent while I was doing ours, or pay me something like she would a normal interior designer. I know, I know, purely wishful thinking. But a girl can dream, can't she?
This post is about what I would do with my kitchen, were that to ever actually happen, (although, let me just note that its NOT what I would do if it were my own kitchen in a house that I owned).
First I'd have to decide if I were going to go all the way and gut the cabinets or just paint them. They are crappy and sagging in some places, but a fresh coat of paint and maybe some new hardware would go a long way. Some days I think I'm going to go crazy and paint them anyway and be damned with the consequences. The wood grain is so dated. Nothing crazy, just a nice cream color would work. I'm thinking one with a tiny bit of reflective quality, to help brighten the room up. Even with the blinds on the sliding door open, or the overhead light on, it is only really bright in the morning. After about 11, the sun is up too high to affect the kitchen. And I'm rarely in the kitchen before 11.
I would definitely be putting in new flooring, which would have to extend into the small half bath as well. We currently have this ugly tile, which, no matter how much I scrub, remains an ugly dirty grey, with brown grout. They are the bane of my existence (well, ok, along with the rest of the kitchen).
I would also be tearing out the counter and redoing it. Its cheap and crappy. I wouldn't be a bit surprised if it was literally the cheapest option they had when they built the place. I'd gladly rip off the horrible dingy striped wallpaper backsplash and retile the backsplash myself. If I could find some really awesome deals, I'd get new appliances too, especially an over-the-stove microwave (I've always wanted one of those, and it would free up so much counter space!).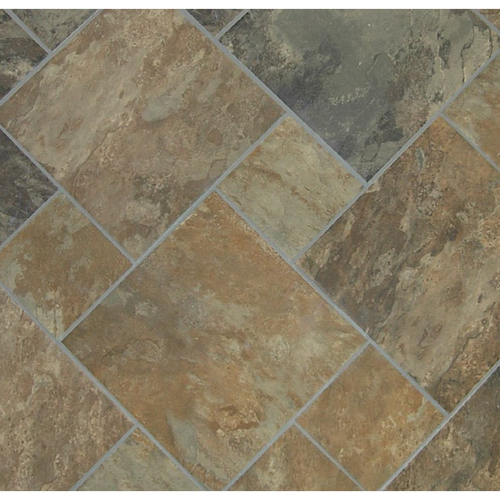 Here is a teaser of the tile I picked out for the floor, which I would relish in learning to do myself. I love to do things myself, I love the feeling of knowing I am the reason it looks so good (or, on occasion, crappy), and I definitely love saving the money from having someone else do it! At $2.18/sq ft it is not the cheapest option there is, but its by far not the most expensive either!