T

his insomnia crap has me considering overhauling our bedroom (when we have some money, of course). Currently, its black and red. And I know red is considered a very stimulating color. So I've been looking at more subdued bedding. (I'll find other ways to bring in the red, because Jess has always wanted a red bedroom. I've always wanted blue, this was our compromise. We picked out red sheets, a black comforter, and I was going to paint the walls a soft blue. But I never got around to painting.) So I've been thinking throwing in some navy as a major color player might help. And then I found this comforter at
Z Gallerie
that sealed it for me: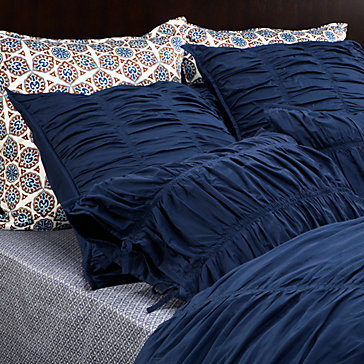 I don't care much for the sheets they paired with it (although I do like the pillows in the back), but throw in some solid sheets in a lighter blue, possibly some striped or otherwise patterned ones, and I'd be in heaven. I love the texture! Doesn't it look like it'd be amazing to curl up with after a long day?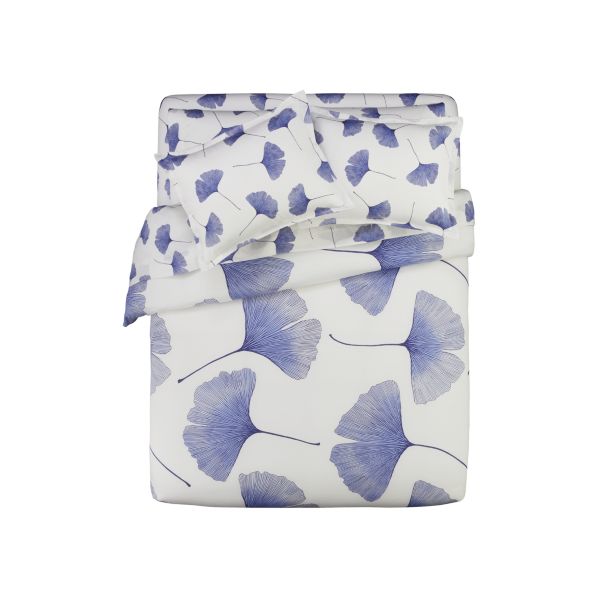 I love these Marimekko Biloba Blue Queen Sheets from
Crate & Barrel
, but they are $139! So I'll keep looking.
I think the comforter I may actually buy (eventually, of course. Oh how that's getting old to say...). Its gorgeous, and for $129.95, the price isn't terribly bad, at least not for one of good quality. I wouldn't be paying $30 each for the coordinating pillow shams though. But I could find some nice coordinating sheets easily and cheaply, and pillowcases too.